Uh, WTF?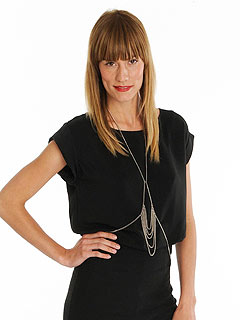 The winner of Project Runway was Gretchen.
I am guessing the producers helped Gretchen with styling- the sunglasses, the bronzer, the hair. Three of her outfits were the granny panties. Shouldn't she have to make full outfits? And I don't think the brown would look good on most people.
Andy was clearly out
. His Ann Taylor Loft garb was nothing new. Too shiny, too holiday-office-look. Actually looked like they got drunk at their holiday office party and put part of the decorations on their heads.
Mondo, Mondo, Mondo!
I think the judges were ticked he didn't listen to them (polka dot dress, the accessories on their head). And Michael Kors is just a bitter designer. He called the plaid pants clown pants, I thought they were fab.
Michael D (who?) got to show his line.
It's ok. One of the tops looks like the model was shot in the chest. Maybe that's the new style. Keeps the bad guys from attacking you because you already look shot.
Ivy got to show her line.
Very simple.
Valerie shows her line.
Inspired by the Jetsons I suppose.
Michael C. shows his line.
Brown.
Casanova shows his line.
You have to see these outfits.
Photos: People, NY Mag.