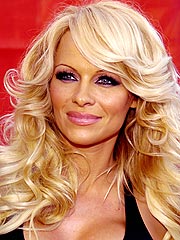 I'm reporting that People is reporting that Access Hollywood is reporting that Pam Anderson and Rick Salomon have filed for a wedding license in Las Vegas.
Rick Salomon is the ex-husband of Shannen Doherty, and was in the infamous Paris Hilton sex tape. I think it is assumed that he sold the tape. So, we have him to blame for Paris' fame. Sad, but that is what made her famous.
Maybe Pam is doing this for publicity, or maybe she will marry for the third time.
Photo: People