She looks slightly familiar, he doesn't at all. And I watch Survivor!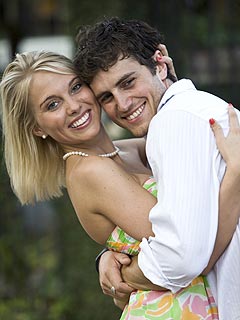 Jaime Dugan and Erik Huffman, who met on Survivor: China, married Saturday evening in Charleston, S.C., in front of 150 family and friends, including other reality cast members.

Dugan's bridesmaids were Marisa Axelrod and Brooke Jackson from last season's Amazing Race.

The pair, who grew up just 25 miles apart before meeting across the world in China, won an $80,000 dream wedding courtesy of the Charleston Area Convention and Visitors Bureau.
I don't recognize the Amazing Race bridesmaid's names, but did she have no friends until she started on a reality show?
Photo, source: People