Whenever the contestants are put into teams, you get a sense of dread- from the contestants and from the viewers. The debating over who made what, who had this idea, and who worked harder...
While pairing usually brings out weird ideas and a horrible final product, it does bring out the catty side of some, which I guess is why they are paired up in the first place.
Add to the fact that this is the first runway show outside (not sure why that was such a big deal) and that the models are on stilts, this was an episode where the producers were trying to really amp it up.
Laura and Anthony Ryan worked well together and won. I couldn't walk in this dress with flats, so big kudos to the stilt lady. And yes, you have to call him Anthony Ryan.
Design darlings Anya and Olivier had scores high enough that they didn't have to sit through Michael Kors insults or compliments. I thought this would get called out for its simplicity.
Becky and Kimberly were in the top 3. Tailoring pants that long is impressive.
Bert and Viktor didn't get along and took it out on this outfit. Why does Mood even sell fabric like this?
Bryce and Fallene couldn't get it together. And I really don't think if she had finished her top it would've looked any better. Bryce mentioned many times that Fallene wasn't cutting the fabric on grain. I am surprised she didn't know that, but I didn't want to hear Bryce repeat it over and over.
The judges liked this outfit by Danielle and Cecilia, and I just don't get it. While the judges did admit the hair was no good (Michael Kors: "Craaaaazy hair"), I would have put this in the bottom 3 for the bad tribute to Little House on the Prairie.
Aside from the La Isla Bonita music video, I am not sure when the matador look really is something on trend or couture. Joshua is bitchy, so at times funny, yet would make one cry. When Julie asked about a certain fabric "can this be pleated?", Josh replied "anything in the world can be pleated".
Someone in Lifetime's website's comments section pointed out the winning look is similar to this Gucci dress worn by J. Low.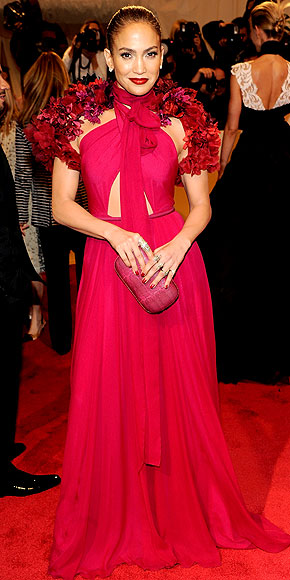 Photos: Lifetime.com, People.com