Did you catch any of Rosie Live? It was very odd.
Alec Baldwin talking into Rosie's cleavage and turning her on. Jane what's her face (from 30 Rock) doing a striptease to tell the audience what crap they get (this was on the same day that Oprah had her non-Favorite Things show). I wasn't against them giving the audience anything, but the striptease was uncomfortable. They were going for a retro-style variety show, I could almost see Goldie Hawn doing a similar striptease 30 years ago, but it just didn't work.
Weirdest moment- Rosie and Gloria Estefan singing about eating.
1 in 8 Americans goes hungry.
The Wednesday night show attracted just 5 million viewers, down even from the previous week's low-rated Knight Rider. The night was dominated by an ABC televised interview with Barack and Michelle Obama by O'Donnell's View nemesis Barbara Walters.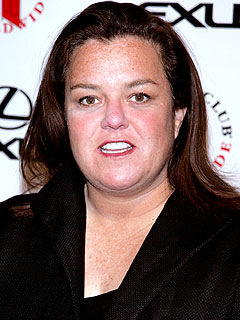 Photo, Source: People