NY Post is reporting:
According to the divorce papers Cynthia Rodriguez filed this morning, there is an antenuptial agreement between the two. (It's just another word for prenuptial, yes I had to look it up.) Basically, A-Rod covered his arse.
Divorce papers
here
.
People is saying:
(Cynthia's lawyer) says that A-Rod was smitten with Madonna, but makes no claim of any sexual liaison. "The correct analysis is a relationship," he says. "Some people categorize an affair as something as sexual infidelity. We're not claming that. It's an affair of the heart." Cue the Rick Springfield song "It's an affair of the heart..."
NY Daily News says:
"Cynthia has made it clear that she's not serious about reconciling," a friend of Alex Rodriguez, 32, told The News.
TMZ:
Well-placed sources tell us the Ritchies plan to officially split in November or December -- after the Mrs.' upcoming "Sticky and Sweet" world tour. Why? Big bucks. The concerts are expected to earn close to $300 mil worldwide, and they've decided to ear mark that to provide for their three children's future.

The marriage, we're told, has been effectively over for some time. The couple are friends, and have realized that it is in both of their interests to make a pile of cash from this tour. No working things out here -- our spies say rumors of reconciliation are "garbage." One person told us, "She is simply playing the media -- and the public -- as usual."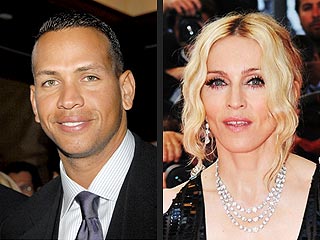 Photo: People