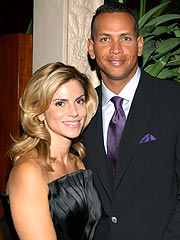 Not how I would've played it if I was a PR person, but I guess Alex Rodriguez's PR person has had many obstacles to battle ever since he was seen in public with a stripper last year. Maybe we can appreciate their honesty and that they're not faking the relationship just to squash rumors. Although in general, I just don't care.
Alex and his wife Cynthia have two daughters, one is 3 months old. Alex allegedly showed up ten minutes after the birth.
The rumors that Cynthia is having an affair with Lenny Kravitz are not true, according to a statement released by Kravitz.
The rumor that Alex and Madonna are having an affair has also been denied.
Photo, source: People