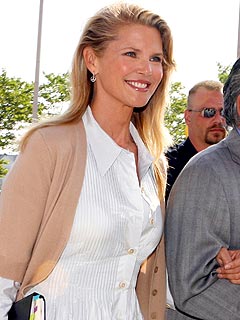 I haven't been posting much on the Christie Brinkley divorce because it was just too much. I just don't understand why Peter Cook wouldn't settle earlier. Christie has been criticized for airy all the dirt in public, but maybe it worked? Looks like she gets full custody.
I'm not sure if the $2 million she has to pay him is part of a prenup or not. I would hope someone on their 4th marriage would have a prenup. Gotta protect your dough. She spent many hours doing those indoor gyms commercials with Chuck Norris!
After a night of intense negotiations, the warring exes reached a settlement Thursday morning at 6:15 a.m., a source close to the case confirmed to PEOPLE.

In the agreement, Brinkley received sole custody of their two children, Jack, 13, and Sailor, 10, and gets to keep all 18 properties in the Hamptons. She's agreed to pay Cook $2.1 million.

Cook does get "parenting time" in the decision, although Brinkley does have sole decision-making power.
18 properties in the Hamptons???
Photos, source: People