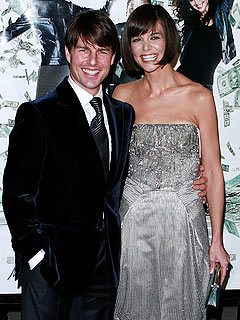 Some reporter asked Katie what she thought of Nicole's pregnancy:
"I'm so happy for her," Holmes, 29, says of Kidman's pregnancy news. "It's wonderful."
Uh, what is she suppose to say? I hate her and her evil spawn?
Tom and Katie were at the premiere of Mad Money. This is the movie that she did instead of the next Batman movie (by her choice? not sure).
Oh, also of note:
Cruise escorted Holmes – in a dazzling strapless Armani dress – to her premiere, but made sure not to steal the spotlight from his wife. Instead he let her work the press solo while he walked across the street to sign autographs and take photos with fans.
Gee how nice of him!
Photo, source: People