ha ha
Crazy Tom and Jerry Seinfeld (!) hang out.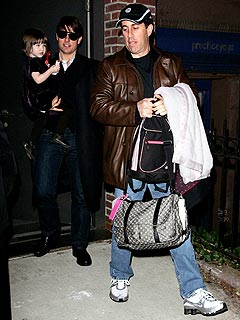 I think Tom saw this quote from Jerry:
"I did some Scientology courses about 30 years ago," the comedian told Access Hollywood while promoting his Bee Movie. "I didn't do very much. I don't know that much, I just did a little but I liked it."
But according to his rep, Jerry is sticking with his Jewish faith.
The Jews gotta step it up. You're losing one of your own!
Where's Madonna and her magic water? Madonna and Crazy Tom should have a slap fight over Jerry.
Photo, Source: People