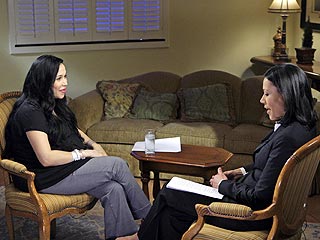 The single, mother of 14 is 33 and I believe living with her parents.
In an interview airing Friday on the Today show, the recent mother of octuplets – to go with six other children at home – tells NBC's Ann Curry: "That was always a dream of mine, to have a large family, a huge family."

The desire, she says, stemmed from a dysfunctional childhood.

"I just longed for certain connections and attachments with another person that I really lacked, I believe, growing up," she says.

Asked what she felt she lacked, she says, "Feeling of self and identity. I didn't feel as though, when I was a child, I had much control of my environment. I felt powerless. And that gave me a sense of predictability. Reflecting back on my childhood, I know it wasn't functional. It was pretty, pretty dysfunctional, and whose isn't?"
So, if everyone had a dysfunctional childhood, everyone should have 14 kids? Her rationale doesn't make sense.
Source, photo: People